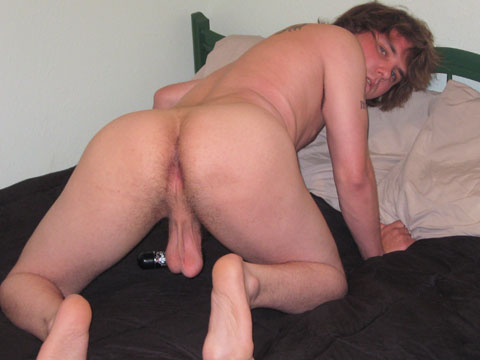 Zac really enjoys showing off. He's the type of guy that usually ends up naked at parties whether he's drunk or not.
Zac also likes talking dirty and he immediately got into it as he started to strip. "You like watching me play with myself?" he asks. He then lays back and does just that.
He was starting to really get turned on and lubed up a dildo that was on the night stand. As he starts shoving it up his tight hole he asks, " Like watching me fuck myself?" I know I did!
He then bends over on all fours to give a really good look at his sweet hole. He also has really nice low hangers that were begging to be sucked on. I love seeing guys in this position...completely exposed and vulnerable.
He then lays back and starts stroking his cock some more.....faster and faster. He was really getting into it. Finally he moans,"I'm getting close to cumming."
As he beat his meat furiously hot loads of white jizz started dribbling out. "Oh fuck! Oh yeah!" It was all over his tummy.
He rubbed the cum all over himself and even licked the hot goo off his fingers. "How is it?" I asked. "Tastes good," he replies. Gotta love it!