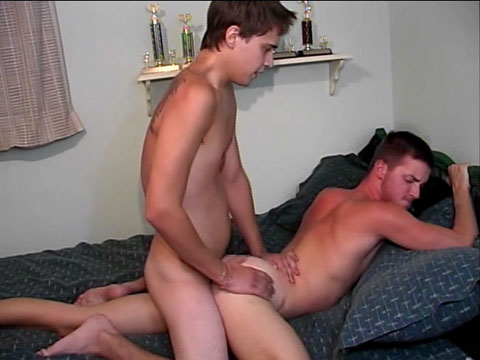 Jonny and Kale had met during a photography class they had together. It turns out they had fooled around before and decided to go ahead and let me get it on camera.
They start by making out and getting each other worked up. Once they stripped down, Kale couldn't wait to get his mouth on Jonny's hard cock. Jonny loved having Kale slob his knob and was anxious to return the favor.
Kale is pretty thick and it was all Jonny could do to get his mouth around Kale's meat. Jonny licks up and down Kale's shaft and teases the head with his tongue. I was getting hard myself in anticipation of seeing these 2 studs fuck.
Kale laid on his back as Jonny worked his boner in Kale's willing hole. After getting it in he started thrusting in and out and really tearing Kale's ass up. "You like that?" asked Jonny as he continued to pound his buddy. "Yeah," moaned Kale.
I got a good view of Jonny's hairy ass and big ole balls bouncing as he rammed his cock in and out of Kale's fuck hole. Kale then turned to get on his stomach as Jonny continued his anal assault. "Take it!" commanded Jonny as Kale moaned in pleasure.
After getting a good pounding Kale was ready to nut and Jonny was so horny that he begged Kale to cum on his face. Kale obliged and shot a huge load all over Jonny's face and open mouth. Jonny then took Kale's shaft back in his mouth to get any remaining jizz he could.
With cum still covering his face Jonny started beating his own meat until he shot a nice load all over Kale's back. They both laid there spent.
I had filmed Jonny before and couldn't believe he let Kale cum on his face. Previously he had run from cum and now he was begging for it. "I had to do what I had to do," he said afterward. I guess his buddy must have really turned him on!