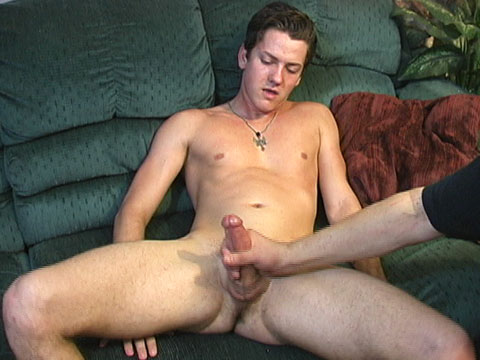 Max is a hot 19 y/o college boy that likes to get a little dirty on camera when his girlfriend is away. His girl went home to her family for Thanksgiving so he figured this was a good time. He had done a solo before, but he's been working on his body and looked a little different. He also agreed to try out a toy this time.
He strips down to show his lean teen body. I could instantly tell he had been hitting the gym. When his shorts came off he already had a boner. I knew this would be good.
"Feels so good," he moans as he lubes up his schlong and starts stroking. He lays back on the couch with his legs up showing the soles of his bare feet and a glimpse of his tight teen ass.
He spreads his ass cheeks to get a better view of his virgin hole. "Like my ass?" he asks. "Wanna fuck this tight ass?" Damn this boy was hot.
He found a dildo to try and lubed it up. As he started sliding it in his young boy hole the look on his face was priceless. I didn't know if it was pain, pleasure, or both as the dildo stretched him out as it went in deeper. Somehow he got it in all the way to the base and started fucking himself with it. "You like that?" he asks.
Finally he sits back and really starts pounding his meat. I couldn't help but reach in and give him a hand. He didn't seem to mind so I kept stroking him and rubbing his balls. "Faster," he moaned.
Finally he let me know he was going to cum, and thick boy jizz flew into the air and ran all over my hand. He started to laugh as I rubbed his now sensitive penis head. What a mess. I loved it!