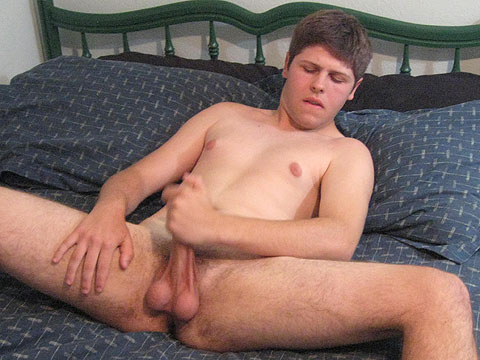 Caleb replied to an ad and seemed very interested in making a video for the first time. He had just turned 18 and was starting his senior year in high school. He didn't have any pictures so he asked if he could come by for an audition.
Now usually I don't like having guys come over sight unseen, but I figured I'd take a chance....and boy I was not disappointed. When I opened the door and saw him I knew I wanted to get him naked on camera.
After sitting down and going over all the legal stuff, I asked him why he wanted to do this. Turns out this cute boy-next-door had a devlish and curious side to him. I think he really wanted to experiment and try new things, and this was an outlet to do it.
Because this was meant to just be an audition, I interacted verbally with him a lot more than I normally would. I wanted to get a better idea of what all he might be willing to do in future videos. I also wasn't sure how he'd respond once the camera was on.
We did the traditional short interview and then I had him go for it. He stripped down to his boxers and I couldn't wait to see what he was packing. (Yes this was going to be my first time seeing him naked as well.)
Once he stripped off the boxers I was excited to see he already had a nice boner....and he was uncut! He also has some of the nicest balls I've ever seen.
He said that he normally jerks off 3 times a day and has to be careful since he lives at home. I asked if he ever got caught masturbating and he said he almost did but was able to cover it up.
He laid back and spread his 18 y/o legs to give us all a good view while he stroked his nice uncut cock. He said it felt exhilerating stroking on camera knowing others would be watching. He put his legs up to show his ass, and it was so hot to see him sprawled out and completely exposed from head to toe.
He turned over and got on all fours to give a better view of his hot bubble butt. "Has anyone ever said you have a nice ass?" I asked. "A couple times," he replied. He said he had never put anything up his hairly hole before but was open to the idea.
As he prepared for the money shot, he laid back with his legs spread to give us another great view. His feet were visible throughout and his toes got tense the more excited he got. This boy was really getting into it.
Then at the point of no return he moans, "I'm cumming. Oh yeah, here it comes." He then shot a nice stream of spunk all over his belly which was a pretty good amount considering it was his 3rd cumshot of the day! I think he's a keeper although this might be his only shoot as I haven't been able to reach him since. Even so it was a great audition.