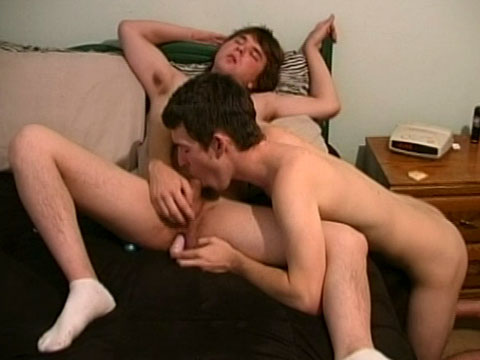 Chris and Zac can both be described as very sexual. They both have girlfriends and neither would date another guy, but sexually they both get off on cock as much as pussy. I was really looking forward to seeing them go at it.
Chris had never been on camera before with another guy, but he was the first to get hard....and he pretty much stayed that way throughout. They start by undressing each other, and Zac grabs Chris' stiff boner.
Zac lays back while Chris strokes and licks his cock...getting it hard before going down on him and giving him a great blowjob. Chris then strips off his jeans and stand next to Zac. Zac strokes both his and Chris' cocks simultaneously. "Feels so fucking good," moans Chris.
Zac grabbed a dildo and shoved it up his own ass while Chris started to suck. Zac moaned like a fucking slut while Chris helped work the dildo that was buried in Zac's boy pussy. This was getting hot!
Then they got into some hot 69 action with Chris on top. I was able to get a good view of Chris' hairy hole and dangling balls while they both slobbed each others' knobs.
Finally Zac laid back and Chris knelt in front of him on the bed in preparation for the money shots. Chris nutted first...all over Zac's leg. Then Zac could no longer take it and with a "I'm gonna cum," busts a nice load all over himself. I couldn't help but blow a load afterward myself off camera. I hope you guys do too!