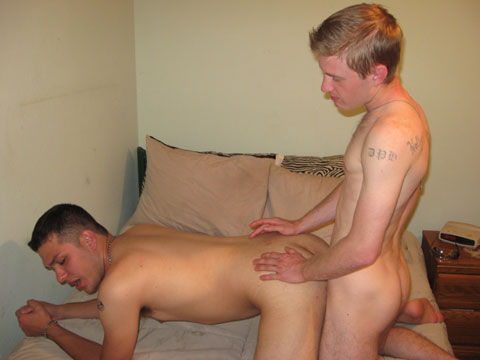 David had previously done a solo and was needing some money, so he called me saying he was open to doing a duo scene. The gears in my head started turning as I imagined all the dirty things I'd like to see this hot little straight boy do.
While apparently he's done more stuff since, at the time of filming he'd never even as much as jerked off next to another guy. That being the case I was curious to see what he would be willing/able to do. He didn't think he could get hard enough to fuck a guy, so he figured taking a cock up his ass might be easier.
With that in mind I called Eli who is always up for sex....especially with a hot blond guy. Once he saw David's picture he couldn't wait to come over.
After a brief interview, Eli undresses David and goes to work on his cock. "Not bad," quips Eli who then got naked himself and continued slobbing David's knob. "Too bad I forgot my tongue ring," he says. "I didn't forget mine!" David blurts out. Apparently his girlfriends like it. Hmmm, this might get interesting.
David then gets on all 4's exposing his sweet hole in preparation for a good rimming. "You can tell it's tight," remarks Eli. He then has David lay on his back and spread his legs so he can finger him and try a dildo.
The dildo wasn't very big, and it was obvious that David was having problems taking it. I had also underestimated the size of Eli's fat cock so things weren't looking good for a fuck scene.
Luckily Eli is versatile, and David seemed not to have as big a problem getting hard as he thought he would. So change of plans.
David laid back and Eli sat on his cock and started riding him. They both seemed to like this arrangement and before long Eli was bent over and David was plowing him doggie style. "Oh yeah. It feels so good," Eli moans. David was treating Eli's willing hole just like it was a girl's pussy. Crisis averted!
The next thing for David to try was sucking cock, and for his first time I think he did an admirable job. The whole thing kinda turned him on and he was the first one hard and ready to nut.
Eli laid on his back and David blew his hot load all over Eli's cock and tummy. Eli then used David's cum for lube and shot a big ole load as well. When asked if they had fun David slaps Eli's thigh as yells, "yeah!"