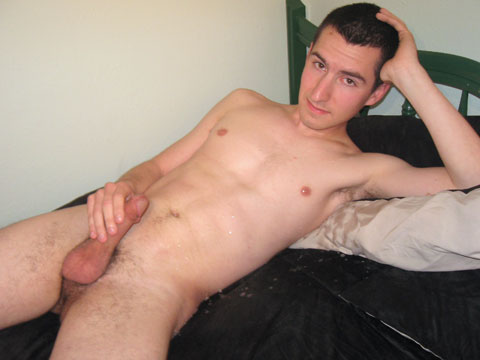 Bill was another was of those guys who had "make a porno" on his bucket list. He didn't seem very concerned with the money, but he liked the idea because it was something new and exciting for him.
Bill mentioned that the thought of other guys watching him get off really turned him on... even though he had a girlfriend waiting for him back at school.
After the initial interview, Bill stripped down to just his briefs. He was pretty psyched about being practically naked on camera for the first time.
I didn't have to ask twice for him to strip off the briefs, and before I knew it he was buck naked and hard as a rock. In fact, he pretty much stayed hard for the entire shoot. He has a nice cock that apparently his girl enjoys sucking on. How could she not?
He really seemed to love the exposure as he laid back and stroked. He lifted his legs as I got the camera in closer to see his balls and get a glimpse of his tight hole twitching.
He then bent over and gave us a really good look at his boy pussy. He rubbed it a little and seemed really excited knowing that his private parts would soon be seen by the world.
He continued stroking while kneeling, standing, and finally laying on his back in preparation for the money shot. He said he normally jerked off 2-3 times a day and hadn't cum since the morning before, so I figured it would be a nice load.
I had no idea, though, it would be as big as it was. When he was close I heard "about to cum" and then it was like a firehose was turned on. He blew one of the biggest fucking loads I've seen which went several feet and landed on the pillow and everywhere in between. What a delicious mess!