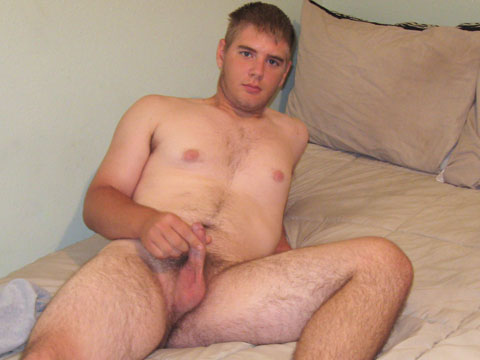 First off I have to admit that I have a thing for baseball players. Brian played all through high school and is a starter for a local college team. When I saw his photo I knew I had to get him naked.
When Brian arrived, he seemed like a typical straight boy. I was hoping he'd be in his baseball uniform, but no such luck as he had just come from one of his classes at school.
This video was initially filmed as just an audition to see how comfortable Brian might be on camera, so there's more conversation back and forth between him and me than normal. After watching it, though, I felt it was worth adding.
During the interview portion I found out some interesting tidbits about Brian that I would never had expected. He seemed so straight that you could imagine my surprise when he said he had been fucked (willingly) when he was 18. It was his only time and the guy was rather dominant and rough, but he hinted at being willing to try it again. The wheels started turning in my head.
Apparently, Brian is quite the exhibitionist as well as he mentioned that he also enjoyed showing off on webcam. It just got better and better.
Now it was time for the clothes to come off. Once he was completely naked I had him get on all fours and show his hairy ass while he pushed his dick toward the camera leaving him totally exposed and vulnerable.
His ass looked so nice that I really wanted to see what it could take. He was pretty tight but managed to get a small vibrating dildo up there with a little help from me. I can only imagine how his first actual cock must have really worked a number on his hole.
He continued to dildo his hot ass while he spread his legs and jerked his college boy cock. He lay back and talked about how he likes to fuck his girl and make her moan. That seemed to really turn him on because his own moans became more prevalent until he suddenly shot a nice creamy load all over his belly.
You could tell it really felt good. Hopefully I can get him back for more.