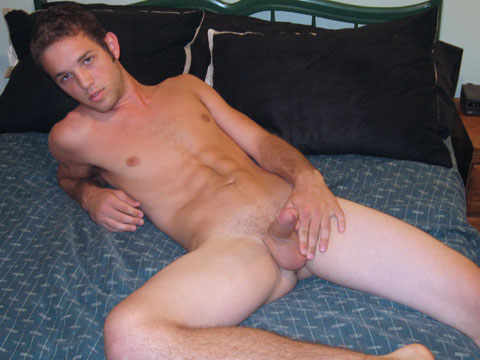 Brian Leaderbran reminds me of a guy I knew in school that I always wanted to fuck, so when he replied to an ad I jumped at the chance to get him in front of my camera.
When I met him he seemed like a normal straight boy that just needed some extra cash. He was even very clear that he only wanted to do a solo. So you could imagine my surprise when he turned into a seductive little tease once the camera started rolling.
I didn't do my normal intro... just told him to have fun. When he started talking I couldn't believe my ears as he began with some really seductive talk. It was hard to believe this was the same guy I had talked to just a few minutes earlier.
Brian stripped off his shirt, revealing his smooth teen chest. He then put his hand down his jeans and moaned... teasing us... knowing all the while we wish we could do the same.
After a bit of teasing, he showed us what we want to see and pulled his teen meat out over his boxer briefs. He started stroking and really got into it. You could hear "Ah, fuck" and "Oh, shit" throughout the scene as he smiled and really pleasured himself. We also get a glimpse of his hot young ass.
Once completely naked, Brian stroked his young cock in different positions and gave us all a good look at his bouncing balls. It was all I could do to stop from reaching in and giving him a hand.
Finally, he lay back, closed his eyes and said, "I think I'm gonna cum. I wanna cum so bad."
I got ready to capture the moment and at first was a bit disappointed when he started to jizz. It didn't look like much at first, but I'm glad I kept shooting... because so did Brian! Several nice streams of cum landed all on his belly. It was definitely worth the wait.