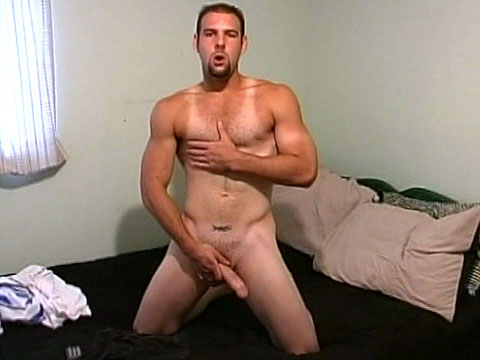 Matt is a boxer and says that he doesn't tend to jerk off very often as he likes to save his testosterone for the gym. I knew that had to mean he had one big load saved up.
Matt takes off his shirt and reveals a farmer's tan where you can see he's been out in the sun wearing a wifebeater. You can also see how the gym has paid off judging from his toned body.
He unzips and reaches his hand down his pants before stripping down to just his boxers. The porn on the TV is getting Matt horny as he grabs the lube and starts stroking.
Once completely naked, he asks if he could get on his knees on the bed to beat off. Apparently it helps him get hard and before I knew it Matt was moaning in pleasure with a rock hard cock.
He bent over and showed his virgin hole to the camera and talked about how he loves when girls eat his hot ass. I bet a lot of guys would love to chow down on that man hole as well.
Matt gets back on his knees and slaps his hard member against his hand. He then really surprised me by totally getting into beating his meat. You could tell he was experiencing great pleasure from the moans and screams of "oh yeah" and "fuck".
Finally he couldn't take it anymore as the euphoria engulfed his entire body. Matt let out a loud moan and busted a huge load of pent up jizz all over his boxers that were laying on the bed.
You could almost feel the relief as he knelt there totally satisfied. He said that was actually a better workout than the gym!