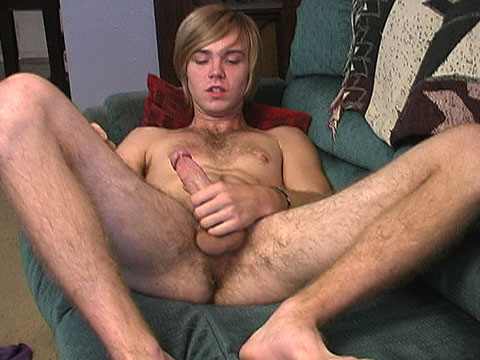 When I first saw pictures of Christoff, I knew I had to get him naked on camera. He has a nice hairy chest and a great body. He had replied to an ad and, at first, was only interested in doing a video with a girl.
Christoff didn't have a car so I picked him up and brought him over to get to know him a little better. We talked for a while and took a few pictures. I really wanted to get this hottie naked, so I was pushing for him to do a jerk-off video. He really needed cash so, a few days later, we arranged to set up a solo shoot.
This hot little fucker got super horny watching porn and stayed hard throughout. He suggested having me shoot from under a piece of glass to really capture his cumshot; something I had thought about before but never had done it.
When he was ready to cum, he shot a HUGE load all over the glass covering it with his young jizz.
That was just round one, though, as he had more hot spunk where that came from. He wiped up the first load with his boxers and continued to stroke his hot cock. This time, I got completely under the glass and filmed it from underneath while he blew an equally huge second load.
I couldn't believe how much cum this boy shot. Possibly one... err... TWO of the hottest creamy loads I've ever filmed!