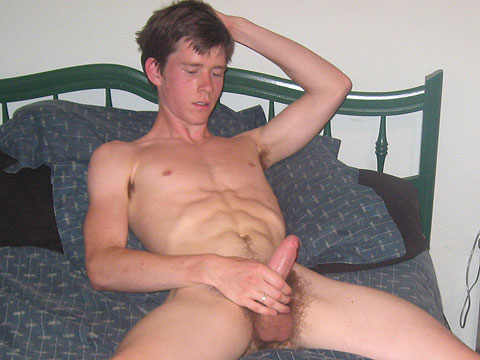 Reese had just recently turned 18 and had been trying to find a job. He was hoping to make some cash before he started his freshman year at college, but he wasn't having any luck. With the economic downturn, it seemed that jobs weren't as easy to find as he thought....even for a college kid.
He responded to an ad figuring that he'd give porn a shot. He had wanted to do something for a while but always figured it would be with a girl. He said he'd do a solo as long as nothing went up his ass.
He was even hotter in person and turned out to be really nice. I decided to try being a "fly on the wall" in his video and forego my usual interview and such. I told him to pretend I wasn't there and just go at it.
He didn't seem to have any issues having a camera there. In fact he pretty much stayed hard throughout. He really seemed to get into it and had a rather intense cum shot. It was like a fountain of jizz spewing from his young cock.
He's pretty quiet throughout but you can feel the intensity at the end. I was hoping he'd come back for more, but that never happened. Maybe he finally found a job.....but not before giving us all a tasty treat!