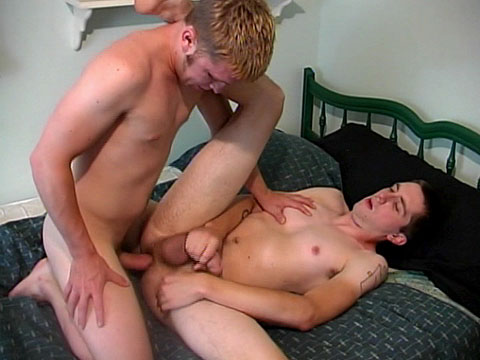 Dean had originally replied to an ad and was interested in doing a solo. We set up a time and about an hour before the shoot I got a message from his roommate Ben.
It seemed that Dean was a little nervous and wanted his roommate to come with him. Ben said he had done porn before and would be up for a solo as well. After seeing his picture I was all for it.
When they arrived, they said they had been talking in the car on the way over and were interested in doing a scene together. They had been roommates for a while and had joked about fooling around before, but they had never actually acted on it....until now.
Because they knew each other and felt safe, they wanted to fuck bare. I figured under the circumstances that would be hot.
It was fun watching the two of them explore each other and honestly seem to have a great time. Dean has a huge cock and tried topping, but when that didn't quite work out Ben was more than willing to take over.
They sucked, fucked, and Ben shot a nice load of jizz all over Dean's face. This was definitely one of the hottest scenes I have filmed so far.