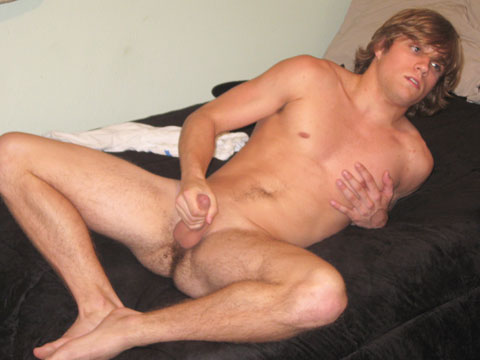 Travis was one of those guys that seemed to have "making a porno" on his bucket list. He had just recently turned 18, and his motto was "Live life to the fullest."
He replied to an online ad I had, and seemed eager to get started. We originally had set up a shoot for the next day, but then he texted me back asking me a few questions.
He asked if I was married. Then he asked if I was straight or bi or gay. I told him I was bi and not married, and he immediately asked if I'd mind blowing him.
I try to keep things professional, but I told him I'd be happy to suck him off if that's what he wanted. Of course I was secretly thinking, "Hell yeah, I'll blow you."
He then asked if he could come by right then. Now, I've lost guys in the past by waiting, so I told him sure. I really liked his look and didn't want him to get away.
He identifies as straight, but there's definitely a little bi-curiosity with him. He even asked me to play a gay video during his shoot.
After he got naked I couldn't believe how hot his body was. He had a problem getting hard, so I blew him off camera .....basically acted as his fluffer. I even had my finger up his ass at one point. I could kick myself for not filming that.
Once he got going he seemed to really have fun showing off and fingering his hot hairy hole. When he blew his load it was amazing....cum flew out like a fountain.
Some guys have a little remorse after they cum, but he was still into having pictures taken and seemed to love knowing others would be seeing him naked. He seemed all for coming back for another shoot when he left, but I guess once the novelty wore off he moved on to other things.
As far as I know this is the only video he's made. I hope you enjoy watching it as much as I did shooting it.