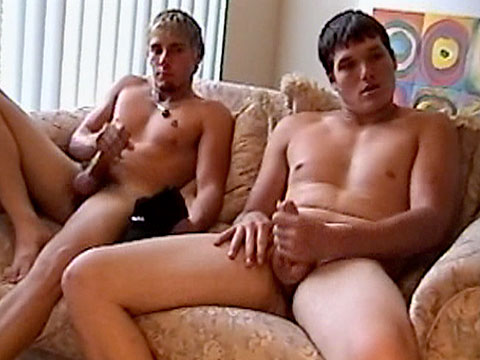 Hayden and Caden had both previously done solos and had agreed to come back and do a mutual jack-off scene together. They were best friends and were comfortable being naked together, but they were very straight and not willing to touch each other.
They turned on some porn and talked about how hot it was while they both got naked and started stroking. They seemed to have a lot of fun...maybe almost too much fun. I think Caden in particular really enjoyed beating off with his best friend. Of course maybe I was just reading too much into it.
I wanted to see the aftermath of their cumshots, and after looking around I found a black cap that they decided to jizz on. It was interesting watching Caden take the cap after Hayden blew his hot 18 y/o nut all over it.
At the end the cap was covered in 18 y/o college boy cum...times 2. I'm definitely glad I met these 2 hot young studs.